The Salvation Army is a charitable organization that provides clothing bins at the rear of our building. This program provides support to needy families and senior citizens.
We are blessed to have many people donate to our clothing bins. We ask that you think about what should be donated or what should be discarded. Our bins are not a dumpster and we only want to have clothing that you would still wear today. Clothing that we can share with families in need that can be worn to school or work. Clothing that is clean and not torn.  This type of donation is very helpful in changing peoples lives.  Thank you opening your heart and helping your neighbors !
We accept both monetary and in-kind donations. In-kind donations are basically clothing goods that are in like new- serviceable condition and can be used by others.
Simple act of kindness that really helps many others!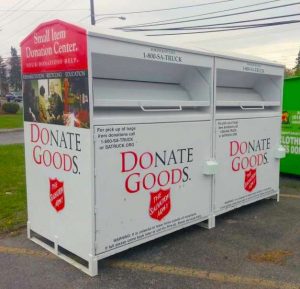 Rules for bins
(Because of our small collection area,  at this time we are only excepting)
Clean- "Like New" clothing and shoes
Clean "Like New"  Winter Jackets
Clean  "Like New" Blankets
Please do not leave any big, old, broken, torn or worn out items that just makes our volunteers have to throw it away and waste time and effort.
Thank you and God Bless