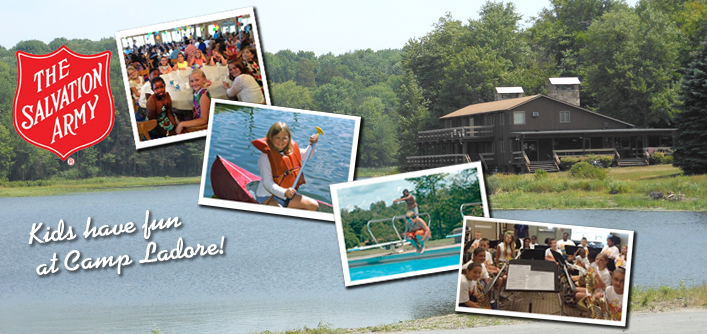 Each summer, boys and girls ages seven to twelve (7-12) have the opportunity to enjoy a fun-filled stay at The Salvation Army Camp Ladore located in Waymart, PA in the Poconos. The 1000 acre camp includes beautiful Lake Ladore, great for canoeing and fishing.

The children usually travel from York on a Wednesday and return home the following Monday. Transportation is provided by The Salvation Army. The camping experience is special for many young people especially those who have limited opportunities to get out to the country or woods. The children make new friends from all over the eastern PA and Delaware areas.

They learn new crafts and sports and the traditional camping songs they will never forget.
---
2018 Camp Sessions
July 2-7, 2018
July 19-24, 2018
August 3-8, 2018
---
Applications available at www.campladore.org, click on "Enroll A Camper". For more information regarding the away camp opportunity for your child, please contact Michelle Harris at 848-2364 ext 213.

There is a $25 application fee per child. The full cost of the camping session is provided by generous contributions from the community.